What is a Helical Micropile?
Helical Micropiles have displacement devices added above the helices to create a void, which is subsequently filled with grout. The resulting pile has the end-bearing characteristics of a helical pile and the skin friction characteristics of a micropile.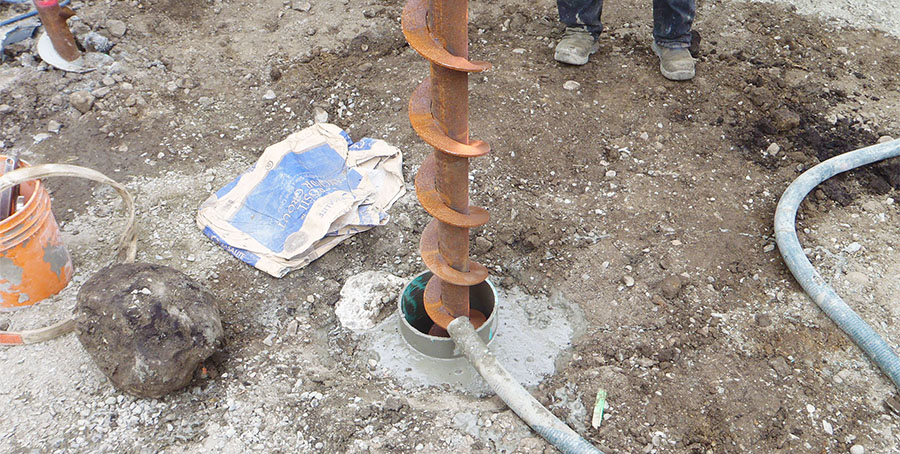 Helical Micropile Installation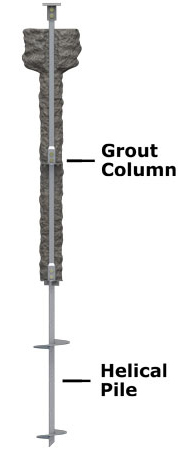 End-bearing & Skin Friction
They provide the loading benefits of helical and micropiles in a single pile. If needed, these piles can also be installed with post grouting systems to increase their capacities even further. 
Stiffer Response
When loaded, the pile provides a much stiffer response when compared to un-grouted helical piles and generally provide a reduced displacement during both initial loading and over time.
Buckling Resistance
The grout column provides increased buckling resistance for smaller diameter pipe piles and square shaft helical piles. In extremely poor soils this bucking resistance can be further increased through the addition of steel pipe sleeves over the grouted square bar piles.  
Corrosion Resistance
The grout column provides added corrosion resistance in environments with harsh soil conditions such as peats and coastal. When combined with galvanized piles, these systems are often designed to outlast the structures that are founded upon them. 
Use
In Greater Vancouver they are often used where softer soils such as peat or clay are present on site over top of harder layer such as Till. These types of piles can also be used in situations where no hard bottom layer exists, in those cases the pile acts almost entirely with skin friction like a traditional micropile. 
No Spoils
Unlike a traditional drilled piles where the spoils are blasted out of the hole using air, the displacement action of of these piles virtually eliminates spoils disposal and clean up. This makes this technology ideal for indoor installation as well as for use on contaminated sites.