Bridge Helical Pile Foundation Still Creek at Burnaby Lake
Helical Piles Project
An old pedestrian bridge across Still Creek in Burnaby Lake Regional Park was at the end of its lifespan. Metro Vancouver and the City of Burnaby needed contractors with specialized equipment that would not damage the environmentally sensitive area. The project location was in the middle of the park. This meant that TerraCana needed to take into account careful transportation of equipment to minimize damage.
Challenges
The project site presented many challenges.To minimize damage, the equipment needed to be able to fit through the existing pedestrian pathways. Furthermore, TerraCana performed the construction during the winter, this meant heavy rain and snow throughout the build. Finally, the poor soil conditions required custom design piles to ensure the safest possible bridge foundation.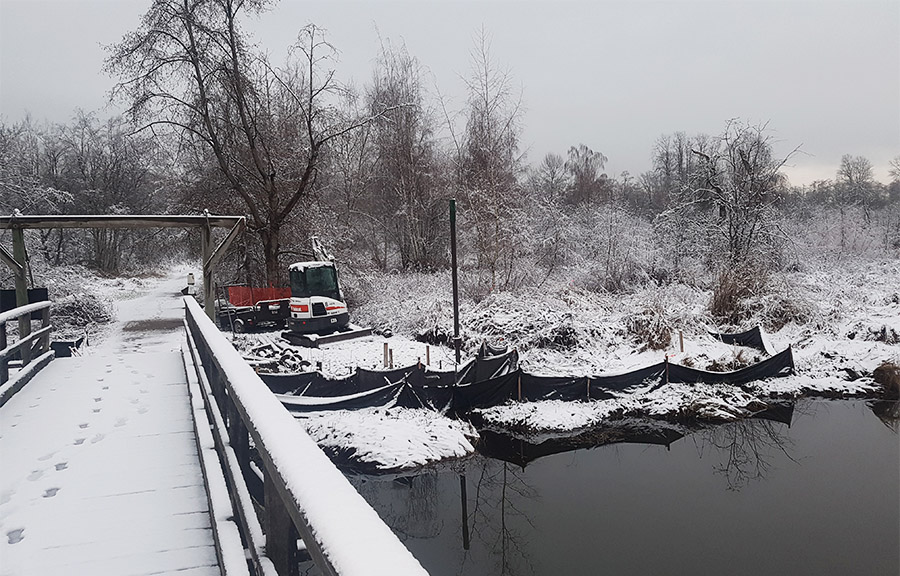 Solution
TerraCana's team designed and installed piles that met the safety requirements set by the city. TerraCana's unique equipment was able to fit down the pedestrian pathways and bridges to preserve the environment. The new bridge now stands across Still Creek and provides a safe route for all park-goers. Our ability to perform well in this limiting environment has since inspired our client to reach out to us for additional projects.
Specifications
No. of Piles: 12
Pile Type: 4.5″ diameter helical piles 70 feet deep
Application:  Commercial
Bridge Helical Pile Foundation Still Creek at Burnaby Lake