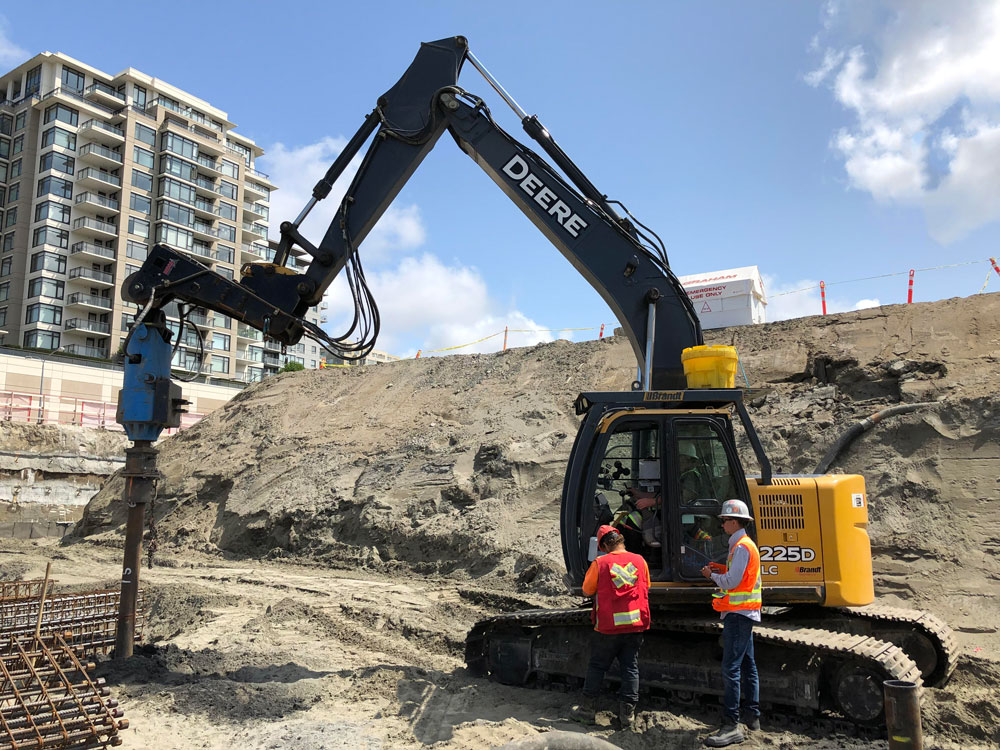 PARAMOUNT HELICAL
TIE DOWN ANCHORS IN RICHMOND
Helical Tie Down Anchors Project
A new development by Oriental Yuhong (Canada) Developments Ltd. proposed to build a commercial and residential multi-use mixed tower development at 6340 No. 3 Road in Richmond. A total of 4 11-15 story buildings are to be developed over top of 2 levels of underground parking. TerraCana and Rush Contracting decided to team up and provide a solution for the foundation requirements.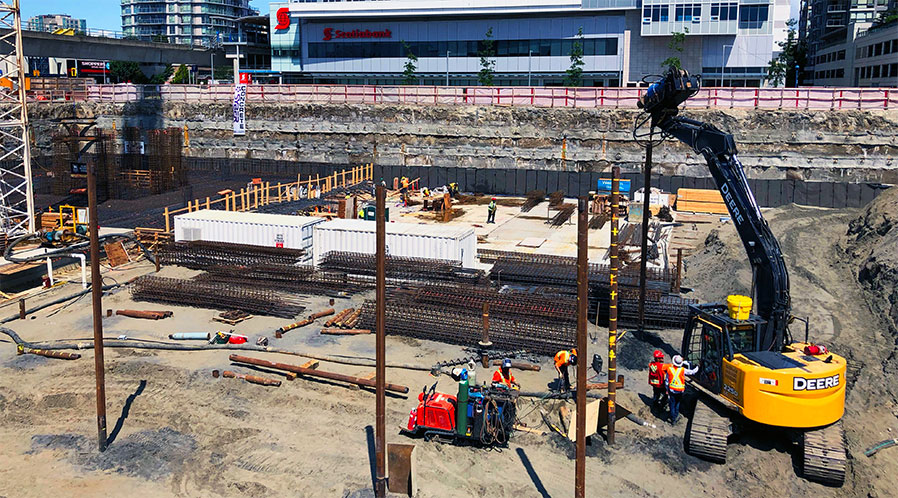 Specifications
No. of Piles: 312
Pile Type: 7″ diameter helical anchors
Application:  Commercial
Challenges
The project site presented a few challenges. Previously, the site received stone columns to increase the soil density. So this meant that we had to install our anchors through the dense soils. As well as in some cases being installed directly through the stone columns. Another challenge faced was the level of the water table in Richmond, which created the challenge of bouyancy controls. Especially with the varying loads over the entire slab. Another challenge was coordinating work with the multiple other trades working inside of the excavation.
Solution
TerraCana was responsible for the design, testing, and installation of the tie down anchors. This resolved the buoyancy challenges and uneven loads over the raft slab. Additionally, we also conducted tests on 5% of all production piles. Our team has had extensive experience installing tie down anchors in soils with a large range of densities. Our foreman coordinated work with other contractors on site allowing him to complete installation 1 week ahead of schedule. The raft slab is now ready to support the new buildings.
PARAMOUNT HELICAL TIE DOWN ANCHORS IN RICHMOND BC CANADA