SHORING PROJECT WITH VIBRO DRIVEN TECHNOLOGY IN VICTORIA
Shoring Project With Vibro Driven Technology
Bosa Properties and Axiom Builders contacted TerraCana to lay the foundations for a beautiful series of residential towers in Victoria. Once these apartments are complete, they will be perfect for any family hoping to take advantage of the parks, playgrounds and bike-lanes that surround this vibrant community. The finished buildings would have a multi-level underground parkade that required shoring. In the end, TerraCana provided shoring services with Helical Tieback Anchors, H-Piles and Drilled Pipe Piles.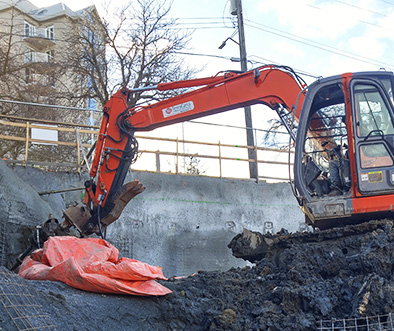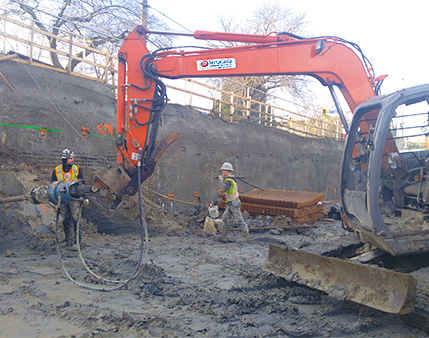 Challenges
The main challenge in this project was accommodating the soil type. The site was of soft clay over a thin layer of till and bedrock. Also, the project location on Pandora Avenue meant that it was in close proximity to the neighbouring buildings which reduced site access.
Solution
TerraCana custom designed the anchors to specifically fit the information provided. TerraCana installed the H-Piles with Vibro-Driven technology. This meant that the end foundation was equally as reliable as alternative technologies but for a fraction of the cost and construction time. Now that shoring is complete, the foundation is ready to support hundreds of new apartments for the Pandora Ave community.
Specifications
Pile Type: H-Piles, Helical Tieback Anchors,
Drilled Pipe Piles
Application: Shoring
SHORING PROJECT WITH VIBRO DRIVEN TECHNOLOGY. IN VICTORIA AT PANDORA AVE